Welcome to idega open source platform!
The idega platform is a modular web application platform based on Java
idega is used for: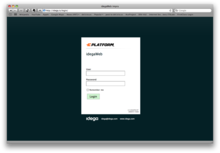 Portals
Sports Membership management
Sports tournament systems (Golf, Motor-Cross and Running)
Travel booking
Online sales
Consumer complaints handling
Grant application handling
Tenders handling
Church management
Committee processes
Grant application handling
Tender process handling
And much more…
What makes idega special is its flexibility because of it's modular structure and today there exist over 200+ modules ranging from general functionality to highly specific. This is why idega can easily be customized for different types of web applications and therefore all of the above mentioned different vertical solutions can be assembled on top of the idega base system. Read more here.
If you are a developer can check out the great collection of modules on our code repository on github. Most of the modules are Maven 2 modules, but some of them are Maven 1 or OSGi/Eclipse based.
Getting Started
To get started go here
Features and Components
To see an overview of the platforms main features and components go here